Ch Wildskye Ammardan's Lady Juror RN, CGC, TDI
Leah's stats:

Date of Birth: July 11, 2011
Color: Black and white
Coat: Rough/long  |  Weight: 35 pounds
*Spayed


HEALTH
OFA Hip Score: GOOD (BCO-9979G24F-VPI)
CERF Eye: clear May 2013, Aug 2014, Jul 2016
CEA: Normal (DNA tested)
CL: Normal (DNA tested)
TNS: Normal (DNA tested)
IGS/CM: Normal (DNA tested)
DM: Normal (DNA tested)
MDR1: Normal (DNA tested)
OFA CHIC #: 135599


Sire: Ammardan Wildskye Court's In Session
Sire hips: Not tested
Dam: Ch Ammardan Wildskye Jackee Bell
Dam hips: OFA Good (BCO-9049G24F-PI)
Breeder: Robin Coppedge (Wildskye)
Owner: Danielle Nash (Ammardan) 
 
I sent Leah's parents to Oklahoma where they have been shown by their owner. As a result of a litter between the 2 dogs Leah came about and was sent to me by her breeder. She was bred under the "Wildskye" prefix, my breeder friend who now owns her parents, but she is 100% Ammardan bloodlines-- line bred lightly on my foundation dog
Madison
(Ammardan's Forever In Blue Jeans). Leah's
mama Bell
is a daughter of my Levi.
I could not be happier with Leah, she is a truly awesome little dog with such an amazing solid temperament and she just adores everyone she meets. She is a go anywhere and do anything type of dog. She is a sweet, loving, and gentle dog who always wants to be as close to you as possible. A very happy girl with no cares in the world, a big ball of fun who I think will always be a puppy at heart. She is a frisbee fanatic and enjoys playing keep away from the other dogs.
Leah has somehow (lovingly) received the nickname "Smee", which she always gets so goofy happy about when we call her that! She is a very expressive dog, always (and I mean ALWAYS) tilting her head from side to side when we talk to her. But boy does it make her photogenic! She matured to be a gorgeous and strong bitch with her exceptional movement really standing out in the show ring. Leah finished her championship with FOUR majors, three off them being 4 point majors! Along the way to her CH she has an exciting Best Opposite win over a top ranked special and Reserve Winners Bitch to a 5 point major at the Louisville specialty. She is also now pointed towards her Grand Championship, she enjoys playing with agility a little bit at home, and had fun in the rally obedience ring for a while. Leah was such a great staple to my breeding program but is now spayed & happily retired, enjoying her life on my couch or playing ball.
Leah has her AKC championship and rally novice title, along with her canine good citizen (CGC) and therapy dog certification.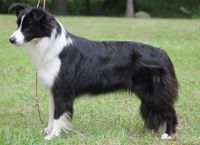 Black/white, carries blue eye gene, possible dilute carrier, OFA Hips Good, Eyes clear, CEA/CL/TNS Normal, IGS/DM/MDR1 Normal
Black/white, OFA Good, CEA/CL/TNS Normal, eyes CERF/CAER clear, BCG Normal

Black/white, OFA Good, CEA Normal, CERF clear, TNS Carrier, New Zealand import